METHODS SHOWCASED MANUFACTURING OF THE FUTURE AT IMTS 2016
3D Printing, Automation and Full Range of Innovative Machining Solutions Embody the Future of Manufacturing
Methods Machine Tools, Inc., a leading supplier of innovative precision machine tools, 3D printing technology, automation and accessories, demonstrated a wide range of the latest developments in manufacturing technology in Booth # S-9119 at IMTS (International Manufacturing Technology Show), located in the South Hall of McCormick Place, Chicago, Illinois from September 12-17, 2016. From additive manufacturing (3D printing), to automation cells, robots and advanced CNC machining centers, Methods had over 40 leading-edge solutions under power at the show.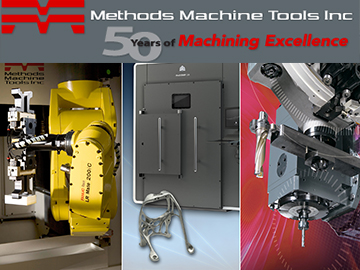 Methods3D, a newly formed subsidiary of Methods Machine Tools, exhibited six 3D Systems production machines representing four technologies (SLA, SLS, MJP, DMP), including the new ProX DMP 320 3D Metal Printer. 3D System's machines are the industry's most advanced printers for printing high quality metal and plastic parts. Experts were on hand to discuss sample parts, user applications and the integration of 3D and conventional machining technologies.
Automation solutions was prominently emphasized in the Methods booth, where new multitasking, CNC machining, deburring and inspection cells, integrated with robots, were demonstrated adjacent to a "Robot Learning Area". Methods continues to expand their leading machine tool automation capabilities by providing profitable, comprehensive high productivity solutions for manufacturers across North America. Methods provides and integrates all aspects of the automation solution and had one of the largest displays of Fanuc Robots at the show.
"With our leading automation solutions and the very latest developments in machine tools and in 3D technology on display at IMTS, visitors at the Methods booth can explore the future of manufacturing and also find the best solutions for today's increasingly demanding machining requirements," said Bryon Deysher, President and CEO of Methods Machine Tools, Inc.
A full range of advanced CNC machining centers, multitasking/turning centers, EDM machines and digital optical comparators– a broad array of leading-edge machining solutions were demonstrated in the Methods booth as follows.
CNC Machines and EDMs Machines that made a North American debut at IMTS include:
Nakamura-Tome NTRX-300 heavy-duty Multi-tasking Turning Center with full twin spindles, built-in automation and advanced software. Methods has also developed the NTRX- 300L, with 20" longer Z-Axis for larger part applications. A new Nakamura "Smart X" Operating System was demonstrated. The new icon-driven software enables easy, intuitive touch control that is quickly mastered, even by inexperienced operators.
YASDA YBM 9150 CNC Jig Borer New to IMTS, this 3-Axis machining center provides unprecedented YASDA precision and value for the investment, featuring an ample work envelope with a 61"x37"x18" (1500x900x450mm) (X-Y- Z) axis travel that is ideal for applications such as mold bases.
KIWA-Japan Triple H40 innovative, compact Horizontal Machining Center with a column traverse structure, flexible mounting capability and machining access for exceptionally long workpieces. The Z-Axis moves back and forth on the column, ensuring higher spindle rigidity than quill type spindles.
FANUC D21 MiA, D21 MiB and D21 LiB Series RoboDrills. The world's most popular tapping/drilling machining centers are the latest generation RoboDrills, with new servo motor-driven ATC's that reduce tool to tool speed by almost half, an increased Z-Axis stroke, optional servo door on the front and side, and much more.
FANUC CiB Series Wire EDMs including the all-new larger CiB800 model,offering significantly increased accuracy, speed and throughput via innovative design efficiencies such as thermal displacement compensation, moving tank design, 3D compensation function and an auto wire feed system.
FEELER HV-1100V high performance Vertical Machining Center with dedicated trunnion, 4+1 axis configuration and 350mm rotary table for increased machining flexibility and aggressive cycle time reductions. A reinforced cross-ribbed column structure and no counter balance weight design significantly improves torsional torque resistance, for maximum accuracy and stability.
FEELER U-800 5-Axis Machining Center is a 5 axis gantry style machine designed with a rigid structure to handle heavy loads and is equipped with a HSK-63 12,000 rpm DDS spindle. The trunnion is solidly built by LCM with a 31.5 in dia. by 24 in work envelope and a weight capacity of 2,600 pounds.
FEELER SV-350 Vertical Machining Center Built as an overlapped 3- Axis traveling column 3+2 vertical machining center with a dedicated trunnion and 250mm rotary table, this 30-taper machine is designed with floor space in mind placing all service items to the rear. The trunnion has a 10" dia. by 6" work envelope and a 10,000 RPM direct drive spindle.
VisionGauge 700 Series Extended Travel Digital Optical Comparators with a large work envelope and tilt and rotary axes in a trunnion configuration, ideal for inspecting parts up to 100 lbs.
About Methods Machine Tools, Inc.
Methods Machine Tools, Inc., in operation for over 55 years, is a leading supplier of precision machine tools, 3D printing solutions, automation and accessories, providing extensive applications engineering support, installation, parts, service and training through a network of large state-of- the-art technology centers and dealers throughout North America.
For more information, please visit www.methodsmachine.com.