New LTK-441 LeakTracker Kit Tracks Leaks Other Systems Can't
A leaky system can cost you time, money and your reputation….and that's on top of potential health and environmental hazards. The bigger the leak, the bigger the cost. The new Spectroline® LTK-441 LeakTracker™ Kit is ideal for all oil-based fluid system applications because it pinpoints the exact source of each and every leak in hydraulic equipment, compressors, engines, gearboxes and fuel systems.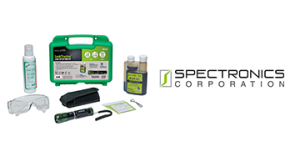 But just because it can target small leaks other detection systems aren't sensitive enough to find, doesn't mean the LTK-441 LeakTracker thinks small. The kit can treat up to 64 gallons of oil-based fluid.
The star of the kit is the powerful LT-300 LeakTracker™ leak detection flashlight. Its high-output LED delivers pure UV light for superior fluorescent dye response. It features "instant-on" operation; reaching full intensity immediately. Cordless and compact, it's able to reach into cramped areas inaccessible to larger lamps. A rugged, corrosion-resistant, anodized aluminum lamp body stands up to years of heavy use. Powered by three "AAA" batteries (included), it provides 4 hours of continuous service and a 100,000-hour LED service life.
Also included is an 8 oz (237 ml) twin-neck bottle of OIL-GLO® 44 concentrated oil dye, GLO-AWAY dye cleaner, dye treatment tags, belt holster, lanyard, UV-absorbing glasses and carrying case.
For more information, call toll-free 1-800-274-8888. Outside the U.S. and Canada, call 516-333-4840
or check us out at www.spectroline.com
About Spectronics Corporation
Spectronics Corporation pioneered the field fluorescent leak detection technology in 1955, and is the world's leading manufacturer of ultraviolet equipment and fluorescent dyes. Even today as Spectroline® illumination diagnostic tools are the application standard for the AC&R, Industrial, Forensic, Laboratory, Nondestructive Testing and Semiconductor market, we are already setting the standard tomorrow's testing technologies.