JUNKER Group: Your Partner for Grinding Precision at IMTS 2016

At this year's IMTS in Chicago (September 12th-17th), the JUNKER Group will be at booth N-7057 to present world-class grinding machines from JUNKER and ZEMA together with the latest in air filtration technology from LTA. As a complete supplier in the grinding sector, the JUNKER Group offers turnkey solutions to suit the customer's needs, from individual machines to complete production lines.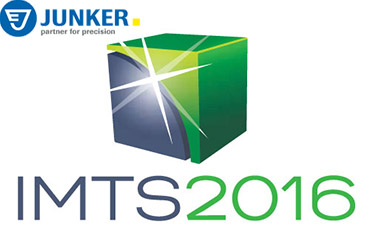 Cylindrical Grinding with speed: JUNKER Lean Selection speed
Booth visitors can watch as JUNKER demonstrates transmission shaft grinding on its Lean Selection speed. The Lean Selection speed is an extremely efficient high-speed grinding machine, perfect for small and medium-sized production series in single or multiple-shift operation. When it comes to shaft-type parts, including blanks for cutting tools, the Lean Selection speed is a very cost-efficient solution and is both highly flexible and efficient.
Highlights of the Lean Selection speed:
CBN and/or diamond wheels up to 140 m/s

High flexibility and high production capability with peel grinding

Simple controls with sophisticated automation concepts
Cylindrical grinding with the ZEMA NUMERIKA GL 600
Booth visitors can watch as JUNKER demonstrates fuel injection body grinding on its ZEMA NUMERIKA GL 600. Versatile, rugged, long-lasting – the cylindrical machines of the NUMERIKA series meet any requirements for the series production of a broad range of workpieces, up to a length of 3.70 m.
Highlights of the ZEMA NUMERIKA:
Hydrostatic guideways and spindles

Workpieces ranging from small fuel injection components to 3.7m long shafts

In-process and/or post-process measurement
Filtration technology by LTA – Industrial Air Cleaning
Filtration solution specialist LTA will be presenting its compact oil and emulsion mist filter BASIC Line, that is the entry model in filtration technology.
Highlights of the BASIC Line:
Effective suction capacity: up to 1,200 m³/h

Can be mounted directly to the machine

Very low energy requirement due to the use of fans in compliance with the ERP Directive
In addition LTA will be showing its oil an emulsion mist filter AC 2000 Solid, characterized by its service life and low-maintenance requirements.
Highlights of the AC 2000 Solid:
Solid matter filter with high filtration efficiency

Effective suction capacity: up to 2,500 m³/h (capable of modular upgrading to 10,000 m³/h)

Low-maintenance solution
For further information on our products, please come check us out at booth N-7057 to see the latest in grinding and air filtration technology.
About Erwin Junker Machinery, INC.
The companies which make up the JUNKER Group develop, produce and sell precision grinding machines for the metalworking industry, as well as air filters for industrial air purification. A global workforce of 1400 employees is actively working to secure the success of the JUNKER, ZEMA and LTA brands.
JUNKER has been instrumental in shaping today's grinding industry with high-speed machines and groundbreaking inventions since 1962. Today, JUNKER is the world market leader in the manufacturing of CBN machines. Their fields of application range from crankshafts to screw taps. The Group's customers are located anywhere ultra-precise metal grinding is vital, predominantly in the automotive engineering and tool industries.
For more information, please visit www.junker-usa.com.
About Zema
Founded in 1953, employs a workforce of over 80 and produces CNC grinding machines with corundum grinding wheels. The traditional Brazilian company draws on ingenious machine concepts for transmission, turbocharger and cardan shafts as well as the flange and journal on crankshafts. Its customers come predominantly from the automotive engineering industry and its suppliers, as well as from tool building. ZEMA has been part of the JUNKER Group since February, 2015 and utilizes the Group's worldwide sales and service network accordingly.
About LTA Lufttechnik GmbH
A technological leader in filtration solutions, LTA Lufttechnik is your expert for complete solutions in the field of air purification. LTA designs, builds and delivers air filters and fire protection systems for commerce and industry.
To find out more, please visit www.lta.de/en.