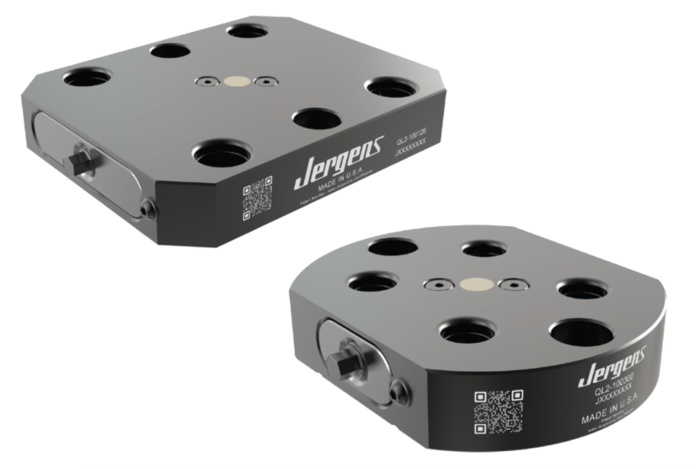 Jergens new Quick-Loc™ 2 Pallet system boasts an improved design that engages pull studs inside the receiver, plus a hardened coating for long life and durability. The range is compatible with all existing top tooling, ensuring repeatability of 0.0003″ and providing clamping forces of nearly 14,000 lbs.
Used for fixturing horizontal, vertical, and rotary operations, QL2 allows for a wide range of top tooling to be mounted and interchanged on base receivers. Top tooling is located and clamped to a base receiver in a single step when the pull studs are inserted into the receiver and the clamping screw is tightened. The simple and sure process provides fast changeover while holding critical tolerance.
"We're seeing more and more customers with an assortment of vises and top tooling who need a common platform", said Mike Antos, Jergens Workholding Product Manager. "The new Quick-Loc uses pull studs and grid patterns, including 52 and 96 millimeter, for machining of multiple workpieces accommodating different top tooling choices, and at the same time provides quick-change", continued Antos.
QL2 features heavy duty, all steel body – treated with Jergens Mcoat for superior wear resistance and durability even in harsh environments. The system features a floating and opposing clamping wedge assembly (with sealed wedge bodies); an Acme threaded screw for increased strength and long life; O-ring lifters for positive separation of top tooling; and versatile standard mounting options. QL2 is Made in the U.S.A. and has a Jergens patented design.

About Jergens
Jergens, Inc. is a global manufacturing leader of CNC machining workholding products. The company is ISO 9001:2015 certified and committed to helping customers achieve leaner, more profitable manufacturing, and continues to add products and engineered solutions for an integrated approach to "Manufacturing Efficiency".
SUBSCRIBE to our Complimentary Publications: