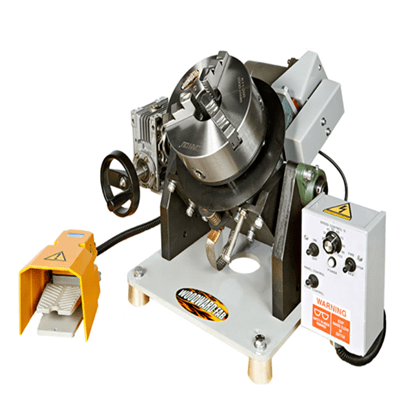 Heck Industries/Woodward Fab, a leading manufacturer of welding and fabrication equipment, has announced the release of its new Model WFWP200-T compact rotary weld positioner. The WFWP200-T is a versatile and powerful tool that is ideal for a wide range of welding applications, from small parts to large assemblies.
The WFWP200-T features a 200-pound capacity and a variable speed range of 0-6 RPM. It is powered by a 110-volt motor and features an industrial gear case for continuous operation. The table tilts manually with a hand wheel, and the positioner includes a large 2 3/8″ through hole for holding long tubes. A 3-jaw chuck is also included.
About Heck Industries/Woodward Fab
Heck Industries was established in 1966 as an inventor and manufacturer of unique cost saving metal working machinery.
We are the world leader in plate beveling machines. We offer a complete line of patented hand held bevelers, bench models and power feed machines.
Even though we manufacture all products to the highest standards using state of the art machining techniques, we are most proud of our strong customer support, customer service, and skilled representatives.
SUBSCRIBE to our Complimentary Publications: