HEIMATEC RELEASES FOUR NEW CATALOGS SHOWCASING DEDICATED TOOLING LINES
New catalogs for Mori Seiki, TSUGAMI and Miyano machines offer standard tools from live tooling leader
Heimatec, a market leader in live tooling for the North American machine tool industry, has released a series of four new catalogs showcasing the company's lines of machine brand specific tooling.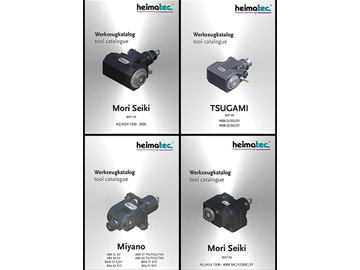 Already offering the most complete line of live tools available in the industry, with over 40,000 designs in its database, Heimatec machine brand specific tooling includes products for the following popular brands:
Mori Seiki BMT 40 NZ/NZX 1500-2000
Mori Seiki BMT60, NL/NLX 1500-4000 MC/Y/SMC/SY
TSUGAMI BMT 65 M06 D/SD/SY, M08 D/SD/SY
Miyano ABX 64 TH/TH2/TH3, BND 51 S/SY, BNJ 42 SY3, BNE 51 SY5, BNJ 51 SY3
Heimatec sets the standard for the highest precision and most advanced technology in the machine tool accessory market. The company is acknowledged as a world leader in live tools, angle heads and multi-spindle drill heads.
In addition to its standard tooling and machine brand specific line, Heimatec also offers custom designed tooling. Heimatec tooling experts work directly with customers to design solutions to suit specific requirements for all CNC lathes, helping to solve the most challenging applications in multiple markets served by the company, ranging from orthopedic devices to oil & gas drilling equipment.
About Heimatec
Heimatec North American distribution headquarters are located in Prospect Heights, Illinois (Chicago) with world headquarters plus all manufacturing based in Germany. A team of manufacturers' representatives covers the North American market for Heimatec.
For more information, visit www.heimatecinc.com.