Sensorex has expanded its family of water quality and online process transmitters, adding four new models to provide basic monitoring and control. The TX10 pH/ORP and CX10 Conductivity and transmitters offer simple monitoring, while the TX20 pH/ORP and CX20 Conductivity controllers can also be programmed for process control. These small-footprint panel-mount transmitters provide reliable data and control of process fluids, in a cost-effective package. Applications include water quality, chemical, electronics, food production, environmental and wastewater treatment. Both the TX and CX models are direct fit alternatives for discontinued Eutech Instruments equipment.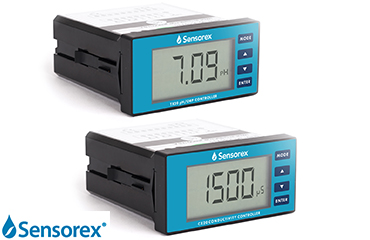 The TX10 measures pH or ORP and temperature. The CX10 transmitter measures conductivity, resistivity, and temperature. Both provide convenient local display of values and easy access to calibrate online process sensors. The primary measurement 4-20mA signal output can be integrated into a range of process control systems.
The TX20 monitors pH or ORP, with temperature compensation for accurate measurement and control. The CX20 monitors conductivity or resistivity, also with temperature compensation. Both provide local display of values with relay output for alarm or control of process conditions ideal for use with chemical feed systems.
All four models are simple to operate, with push button interface and clear LCD displays. They are designed to save panel space with a small footprint 1/8 DIN enclosure. The devices are 100-240 VAC line-powered.
These instruments provide direct replacement for discontinued Eutech Instruments* products as follows:
TX10 replaces Eutech Instruments pH 190
CX10 replaces Eutech Instruments Cond 190
TX20 replaces Eutech Instruments pH 200
CX20 replaces Eutech Instruments Cond 200
About Sensorex
Sensorex is a global leader in design and manufacture of quality sensors for water quality and industrial process applications. The company offers more than 2000 sensor packages for pH, OP, Conductivity, Dissolved Oxygen, UV Transmittance and other specialty measurements, as well as a full line of sensor accessories. Its expert technical support engineers solve analytical sensor challenges with custom designs and off the shelf products.
Visit us at www.Sensorex.com.
Sensorex is a Halma company. Halma makes products for hazard detection and life protection and is a market leader in specialist electronic, safety and environmental technologies. Visit the Halma web site at
www.halma.com
.