VOSS Fluid has made a strategic acquisition and has purchased all shares of the Italian market competitor LARGA. The German quality manufacturer of tube connections is taking this step to supplement its product range with additional hydraulic components. At the same time the company is also increasing its manufacturing capacities for the global market.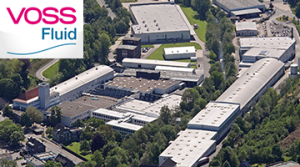 The elements that link VOSS Fluid and LARGA are decades of experience in hydraulic connection technology and a similar customer-focused corporate philosophy. The Italian family-managed company LARGA has production plants about 30 kilometers north of Milan and has been active on the market since 1954. Along with tube connections, the manufacturer has specialized in hose fittings that cover all conventional hydraulic applications. One special highlight in the assortment is hose fittings with tear-off protection. With the integration of the LARGA solutions, VOSS Fluid is developing its product portfolio and specifically expanding the range of services for matched hydraulic components for its customers. Against this background hose fittings are a sensible supplement to the components already available in the hydraulic circuit.
Connecting corporate philosophy
With their especial customer orientation, VOSS Fluid and LARGA guarantee long-term use of their components through a high degree of zinc-nickel corrosion protection. With its VOSS coat finish protection, VOSS Fluid has set the standard in this sector and with LARGA, it can fall back on comparable expertise to secure a general quality standard throughout the entire product line.
About VOSS Fluid GmbH
VOSS Fluid GmbH is an internationally leading provider of hydraulic coupling technology. The company is based in Wipperfürth. It has around 400 employees and is part of VOSS Holding. Its product range includes tube couplings for stationary and mobile hydraulics, including cutting ring couplings, tube forming systems, and flange couplings. For VOSS Fluid, as a development and system partner in international mechanical engineering, the focus is on application-specific system solutions. VOSS Fluid offers customers everything from one single source: From project planning and engineering to production, assembly, and cost-effective logistics services. With four of its own sales companies in Europe and Asia as well as further representatives of the VOSS Group and a global network of traders, VOSS Fluid can guarantee the reliable distribution of its system solutions at all times.