QComp Wins ABB 2016 North American Robotics Value Provider Award
QComp was recently honored by ABB Inc. as its co-winner of the ABB 2016 North American Robotics Value Provider Award for Outstanding Performance. The awards were presented during ABB's annual Robotics Value Provider Conference recently in Atlanta, GA. The award recognized QComp for its demonstrated outstanding performance in automation integration. Mr. Greg Whitney, vice president of engineering and manufacturing for QComp Technologies, accepted the award on behalf of the company.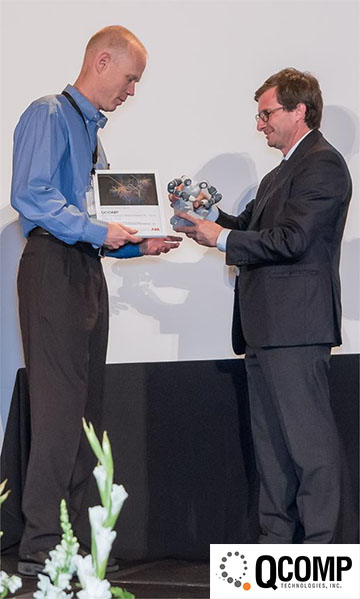 "We have been working with ABB products and personnel for over 19 years and value our relationship with this leader in automation technologies immensely," said Greg Whitney. "We are delighted to be recognized for our team's commitment to providing the most advanced robotic solutions using ABB product."
The awards were presented by Gustavo Sepulveda, ABB's USA robotics general manager.
Mr. Sepulveda commented, "It's an honor to recognize our award winners with their respective awards. Each company demonstrated innovation, outstanding performance, and leadership in their specific areas of expertise. We also strongly believe that their close working relationship with ABB is a key component of their success."
QComp has been working with ABB Robots for over 19 years to provide manufacturers with the best robotic solutions to solve their application needs. QComp is excited to be selected as a preferred integrator to provide ABB's new YuMi dual-arm collaborative robots. The YuMi is the first truly collaborative robot. QComp is using this inherently safe, extremely accurate, and flexible automated solution for small parts assembly and has been one of a select few integrators trained to help end users integrate the robot into their small parts assembly applications.
"The YuMi robot is the first truly collaborative dual-armed robot designed for a world in which humans and robots work together," said Tom Doyle, President of QComp Technologies.
Features and benefits of the YuMi robot
First truly collaborative robot solution
Works safely close with human counterparts
Size of human torso, built in controller, 14 axis of motion
Dual arm allows multi-tasking, can process 2 tasks at once
High-speed 1500mm/sec, best in class accuracy, state-of-the-art motion control
Lead through easy-to-use programming
ESD Compliance can work with open electronics
500mm reach, 500g payload, 100-240Volt, unit weight 38 Kg
About QComp Technologies, Inc.
QComp Technologies, founded in 1990, is an automation systems integrator specializing in material handling automation solutions. QComp has designed and installed hundreds of robot-based automation systems throughout the United States.
For more information, please visit www.qcomptech.com.