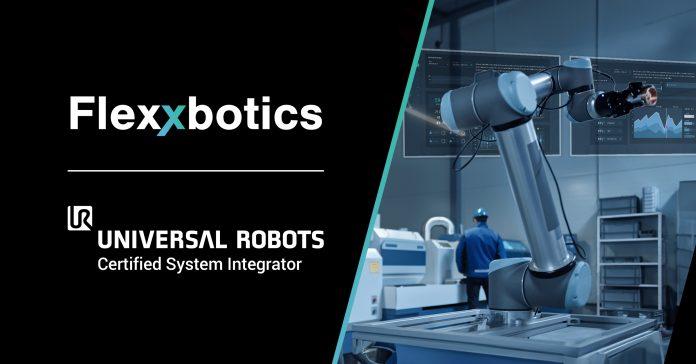 Flexxbotics, delivering workcell digitalization for robot-driven manufacturing, announces that it is now a Certified System Integrator (CSI) for Universal Robots (UR), recognizing its leadership and cutting-edge solutions for robot-driven machine tending. 
This new certification enables Flexxbotics to provide a full integration service for machining centers adopting UR cobots or expanding their fleet with Flexxbotics for machine tending.
Flexxbotics solutions featuring its breakthrough FlexxCORE™ technology, seamlessly connects and coordinates UR cobots with existing automation equipment, IT systems and people for Robot-Driven Manufacturing to achieve Autonomous Process Control.
Brian Conner, CSI Program Manager at Universal Robots, said: "Flexxbotics has been part of the UR+ ecosystem since 2018 and has become a real leader in CNC automation. Obtaining CSI status demonstrates our confidence in Flexxbotics and its ability to deliver turnkey machine tending solutions to UR customers."
Tyler Bouchard, Co-founder & CEO at Flexxbotics, said: "We are pleased to strengthen our partnership with Universal Robots, while at the same time providing our customers with the confidence and assurance that Flexxbotics will be there every step of their robot-driven manufacturing journey."
About Flexxbotics
Flexxbotics workcell digitalization is the backbone of the Smart Factory delivering autonomous process control for next generation machining environments. Flexxbotics SaaS/hybrid solutions enable robot-driven manufacturing at scale. Flexxbotics breakthrough, the FlexxCORE™ technology, seamlessly connects and coordinates robots with existing automation equipment, IT systems and people. More powerful, flexible and open, Flexxbotics revolutionizes the use of robotics in complex production.
About Universal Robots
Universal Robots is a leading provider of collaborative robots (cobots) used across a wide range of industries and in education. Founded in 2005 with global headquarters in Odense, Denmark, the company has over 20 offices worldwide, including North America headquarters in Novi, MI. Universal Robots aims to create a world where people work with robots, not like robots. Its mission is simple: Automation for anyone. Anywhere.
Since introducing the world's first commercially viable cobot in 2008, Universal Robots has developed a product portfolio reflecting a range of reaches and payloads and has sold over 75,000 cobots worldwide. An extensive ecosystem has grown around the company's cobot technology creating innovation, choice for customers and a wide range of components, kits and solutions to suit every application.
SUBSCRIBE to our Complimentary Publications: