Beckhoff to Highlight System-Integrated IoT Hardware and Software Tools at IMTS 2016

Beckhoff Automation will demonstrate the latest Smart Factory innovations this year at IMTS and IANA with an IoT pavillion filling much of the company's booth. Located in booth 4410 (East Hall, IANA section), these advanced IoT hardware and software technologies will highlight current and upcoming tools from Beckhoff for practical implementation of IoT and Industrie 4.0 concepts.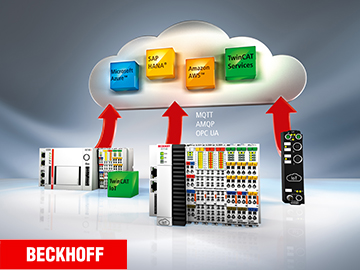 The co-located International Manufacturing Technology Show (IMTS) and Industrial Automation North America (IANA) trade shows take place between September 12 – 17, 2016 in Chicago's McCormick Place. As Beckhoff has facilitated for years in previous trade shows, visitors to booth E-4410 will have the opportunity to use their own smartphones and interact with PC-based control demos – including the ability to connect to an entire wall of IoT-enabled devices and a 6-axis robot arm using any mobile device with a web browser.
While providing the flexibility to securely transmit plant floor data to cloud services, the Beckhoff approach expands on already-existing systems instead of applying complicated workarounds created with 3rd party developers. TwinCAT 3, the industry-leading PC-based control software platform from Beckhoff, has been expanded to give users the ability to create IoT and cloud-connected automation systems in the same universal environment they program PLC, motion control, robotics, safety technology and more.
In addition, new I/O solutions have been introduced in the form of the Beckhoff IoT Bus Coupler and IoT Box. These provide a simple method to directly connect I/O systems to the cloud and securely transmit data over today's recognized standards such as OPC-UA, AMQP and MQTT.  Additional Smart Factory solutions will factor heavily throughout the Beckhoff booth, such as industrial server technology for many-core control systems and One Cable Automation, which integrates the previously separate power and signal lines into a single, standard 4-wire Ethernet cable.
"The IMTS and IANA trade shows continue as North America's premiere showcases for new manufacturing and automation technologies in a variety of high-tech application areas," says Aurelio Banda, CEO and President, Beckhoff Automation. "Today, as IoT and cloud-connected technologies remain at the forefront of our manufacturing conversations, Beckhoff Automation is in a prime position to deliver the necessary hardware and software tools to enable modern connectivity concepts. These cloud-ready tools for manufacturers and machine builders efficiently gather all required plant data, driving insight and value through robust analytics."
"Plug and Cloud" with the new IoT Bus Coupler from Beckhoff
The new EK9160 IoT Bus Coupler connects Beckhoff EtherCAT I/Os with the Microsoft Azure™ cloud directly, without the need for any specific control program. The coupler offers simple and standardized integration of I/O data with cloud-based communication and data services. The "Azure™ Certified" status of the device fulfils an important requirement in this regard for a seamless and easily configured connection via an integrated website to the Azure™ IoT Hub.
Complete process data acquisition and analysis: TwinCAT Analytics
The Smart Factory introduces numerous requirements regarding online and offline state analysis, predictive maintenance, pattern recognition, machine optimization and long-term data archiving. This requires data capture to be as continuous as possible and in sync with the processing cycle. That is exactly why Beckhoff developed TwinCAT Analytics software. All process data can be provided as needed, either locally or as a cloud-based solution on a server, whether on an internal corporate network or in a public cloud.
TwinCAT IoT enables fast, standardized cloud communication
With the company's new TwinCAT IoT software, Beckhoff supports standardized protocols for cloud communication and for sending push messages to smart devices. Quick and easy to configure, TwinCAT IoT provides a variety of functions for exchanging process data via widely-used communication protocols such as AMQP, MQTT and OPC-UA, and for accessing special data and communication services either from public clouds or local systems.
With EtherCAT P, the era of One Cable Automation has arrived
Through the newly introduced EtherCAT P technology, Beckhoff unites EtherCAT communication and power supply in a standard, 4-wire Ethernet cable. Innovative, space-saving One Cable Automation technology integrates the 24 V DC supply of the EtherCAT P slaves with the signals and data from connected sensors and actuators. In addition, the system electrically isolates the US (system and sensor supply) and UP (peripheral voltage for actuators) from each other, each with up to 3 A of current for the connected components. EtherCAT P also represents an important step forward in the effort to make cabinet-free automation systems a reality. Beckhoff offers similar space-saving one cable technologies for industrial displays as well as drives and motors.
About Beckhoff Automation
Beckhoff Automation is a provider of advanced and open automation solutions based upon proven technologies for customers to implement high-performance control systems faster and at a lower overall cost than traditional PLC and motion control systems. Beckhoff's "New Automation Technology" product range includes PC-based control, industrial PCs, automation controllers, operator interfaces, I/O, servo drives and motors. With representation in more than 60 countries, Beckhoff is well-positioned to provide global sales and service to its customers. Beckhoff sales and service are handled directly, with no intermediaries involved for exceptional customer service and consultation.
For more information, please visit www.beckhoffautomation.com.