7 Confirmed Workshops and Presentations for Gehring's 2017 Honing Conference
The honing conference on the 10th and 11th of May 2017 in Plymouth, Michigan is now open for registration.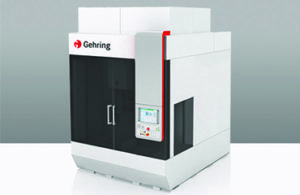 The presentation and workshops open the possibility of discussions and exchange for field experts from all around the world. They interchange about optimal solutions for manufacturing processes for surface finish applications.
Currently, these presentation titles and workshops are confirmed:
Gehring L.P. and Gehring Technologies GmbH, Michael Schaefer and Dr. Wolfram Lohse, "Advanced Honing Technologies Presentations"
Oerlikon Metco AG, Wohlen, Dr. Peter Ernst, "Surface Enhancement with Thermal Spray Coatings"
NanoFocus, Dr. Christian M. Wichern, "3D Surface Measurement of Cylinder Bore and Liners – Advantages and Challenges"
Quaker Chemical, Frank A. Robinson Jr., "Chemistry and Functions of Honing and Coolant Applications"
Gehring Technologies GmbH, Marcell Wardin, "Form Honing Cylinder Bores – from Development to Mass Production"
Gehring Technologies GmbH, Dr. Wolfram Lohse, "Digital Solutions at Gehring"
Siemens Digital Factory, Dr. Stephan Ihmels, "Mindsphere Application in Large Scale Automotive Production Scenarios"
Who should attend: Process and manufacturing engineering personnel responsible for surface finish in automotive, hydraulics, aerospace & defense part applications, Plant Managers, Engineering Managers, R&D personnel.
To register or request further information- please contact Kate McIntosh kmcintosh@gehringlp.com or call 734-855-7371
About Gehring
Gehring is a globally operating machine tool company with 90 years of experience and expertise in precision. Their daily incentive is to produce functionally optimized surfaces. Gehring serves as honing experts of structured work pieces from a variety of industries. Ideal tribological surfaces to allow for high efficiency is the promise they give to their customers. Since 1926, the most important technical impetuses, which have made honing what it is today-a globally demanded performance process, have come from Gehring. From abrasives to the complete honing process Gehring offers all of the key elements from one source.
For more information, visit www.gehring.de/en-us.