Additive manufacturing, or 3D printing, continues to gain in importance. The process allows users to create a three-dimensional, solid object, out of any shape from a digital model. These designs, usually from CAD models have typically been smaller, yet crucial parts.
Back in 2014, In a joint effort with Oak Ridge National Labs, Cincinnati Incorporated set out to take 3D Printing to the next level. The goal was to develop a new large-scale additive manufacturing system capable of printing polymer components up to ten times larger than currently producible, and at speeds 200 to 500 times faster than existing additive machines.
Printing on an Industrial Scale
3D Printing is different than other forms of manufacturing, in that typically you start with a larger piece and then mill it down to the desired size, shape, and specifications. With additive manufacturing, you are able to build the piece exactly from the model you design, and then finish it as needed.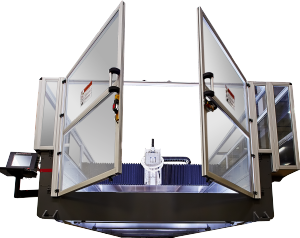 With funding from the Department of Energy, Oak Ridge National Labs had developed an extruder that was larger and could deposit more material, but they were lacking a machine tool platform to put the extruder on. Cincinnati Incorporated, always looking for new business opportunities, signed a formal agreement to co-develop an industrial sized 3D printer in February.
That same year, IMTS invited Oak Ridge, Cincinnati, and Local Motors, an American motor vehicle company that focuses on open-source, low volume, 3D printed vehicles, to the show, as that years feature was Additive Manufacturing.
Typically, designing and introducing a new machine takes years. Within eight months, Cincinnati was able to design and develop BAAM, or Big Area Additive Manufacturing, and debut it on the IMTS showroom floor. A lot of this was thanks to the army of engineers on staff at Oak Ridge's disposal. Cincinnati also decided to use their laser technology platform, frame, and drive system as the base of BAAM. By using an existing, proven platform, they didn't have to reinvent the wheel, just instead of a laser, there would be an extruder.
Proof In Concept On The Showroom Floor
What added to the media buzz was not just the size of BAAM. At that time, BAAM could print an object that was 6'x12'x3' while depositing 35lbs of material per hour. Local Motors, would then design a prototype car to be 3D printed at the show. The show would feature the car pinted, assembled, and driven off of the show room floor.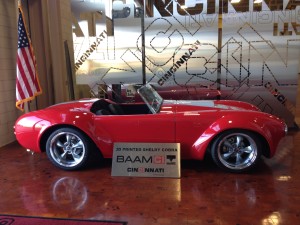 It took forty hours to 3D print the body, chassis, and fenders, and was completed during the first two days of the show. The rest of the car was then assembled. A steering wheel, dashboard, seats, and wheels were installed with an electric motor drivetrain. On the last day, the car was driven off of the IMTS show floor.
This gave huge media exposure to all companies involved. Leading to the Detroit Auto Show, otherwise known as the North American International Auto Show, to invite Oak Ridge to print another car at their show. This wouldn't be a rough prototype like that was at IMTS, this would involve reverse engineering the classic Shelby Cobra design. This would show what could really be done with large-scale additive manufacturing, by reproducing an icon.
Oak Ridge made a blue Shelby Cobra utilizing BAAM again. The car, equipped with an electric motor made its rounds last year on a variety of cable shows, was featured on the Today Show, and even went to the White House.
Cincinnati Incorporated then took things further and developed a larger machine. This second machine, capable of printing 8'x20'x6', and allowed for Oak Ridge to further showcase the benefits of large-scale additive manufacturing by printing a modular home and a type of all-terrain vehicle that could tow the home. Both were electrically powered, and one could power one another.
With this larger scaled BAAM, Cincinnati printed their own Shelby Cobra, this time painting it red, and a scaled down model of an F-22 Raptor for FABTECH.
New Territory of Manufacturing
To date, six machines have been sold, but it's not something Cincinnati Incorporated is aggressively selling. Additive Manufacturing is a completely different market from the lasers, shears, press brakes that one is used to. BAAM is still in a beta or prototype phase.
"When someone buys a laser," explains Matt Garbarino, Marketing Manager of Cincinnati Incorporated, "if they are going to cut stainless steel, well we have thirty years of experience to tell them exactly what parameters need to be ran to cut different thickness of stainless steel. What happens when BAAM is sold to a customer it is new, for both Cincinnati and the customer. "
Cincinnati Incorporated makes sure the company has engineering resources to have a successful installation. The first BAAM sold was to a supplier of resin material with the purpose to use BAAM to test and develop resins for the machine itself. The American aviation company, Cessna purchased a BAAM for tooling and molds. Local Motors bought three, Wichita State for aerospace development.
Currently, Cincinnati Incorporated will also perform service bureau work. If someone needs something printed that is large, they will quote the work, and print it for the client. This allows for short-term projects to be printed that may lead later to future machine sells.
Ninety Percent of the people that look at the technology will ultimately ask what can BAAM do? Additive manufacturing at this scale is still fairly cutting-edge. The two biggest applications that can currently benefit from it are applications in prototyping and other small lot projects. Currently, only plastic based resins such as carbon fiber are being used, but in the long term, the future there may be a pursuit for 3D printing metals.
For more information, visit www.e-ci.com