TIGERSTOP LAUNCHES TIGERTOUCH SOFTWARE SOLUTION
TigerStop is now offering TigerTouch, a completely new and highly innovative software solution for fully automated material processing.
Cut-off, punching, boring, and machining equipment requiring length measurement can now couple a TigerStop positioning system with TigerTouch, which operates on a touch-screen tablet interface.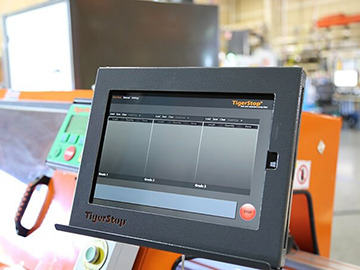 TigerTouch provides a highly sophisticated and user friendly visual representation of the actual material process, allowing for greater control and customization on the manufacturing floor. TigerTouch is equipped with the powerful and easy-to-use Microsoft Surface Pro 3 tablet, with its large, 12" touchscreen.
TigerTouch supports both push-feed and set-point cut lists from manual to full-auto processing. The program allows the user to download cut lists straight from the office. TigerTouch can then optimize all the material in the cut list, on the fly, based on the operator's specific needs.
"We designed TigerTouch to dramatically improve operator ease-of-use and allow the user to have everything from manual to full auto processing at their fingertips," says Spencer Dick, founder and CEO at TigerStop.
Highly sophisticated, yet extremely easy to use, TigerTouch combines, all in one package, the following:
World-class optimizer with Dynamic Optimizing
Allows combination of cut lists to achieve maximum possible yields
Supports full label printing for easy identification of parts once they're cut
Off the shelf and customizable Surface Pro 3 touch-screen tablet
Visual cut lists with up to 3 grades
Download your cut list directly to tablet from office PC or USB Stick
Supports manual to fully automatic processing
Supports automatic pushing of material or simple stop operations
Leave cut lists, and return later
Allows changing of the cut list on the fly
Simple, user-friendly interface. Perfect for under-skilled operators
About TigerStop
TigerStop, LLC is a global leader in automated stop/gauge and pusher systems under the TigerStop and SawGear brand names. Headquartered in Washington State, TigerStop is a U.S. manufacturer of products for the cabinet, furniture, construction, fenestration, electronics, plastics and metalworking industries. TigerStop has a second manufacturing and distribution facility in Wierden, Netherlands, a distribution network spanning six continents, and product support in five languages. TigerStop products easily integrate with existing equipment to help optimize and improve the accuracy of all lineal cutting processes.
To view videos and testimonials or to request a quote, please visit www.tigerstop.com.