METHODS MACHINE TOOLS SHOWCASED YASDA YBM 9150 HIGH PRECISION CNC JIG BORER AT IMTS 2016
New Jig Borer Offers Precise Machining, Ample Work Envelope Ideal For Moldmaking Applications
Methods Machine Tools, a leading supplier of innovative precision machine tools, 3D printing technology and automation introduced the YASDA YBM 9150 CNC Jig Borer, a 3-Axis Machining Center providing unprecedented precision and value for the investment. IMTS attendees could see the YASDA YBM 9150 in action at IMTS 2016, Booth #S-9119, in the South Hall of McCormick Place, Chicago, Illinois.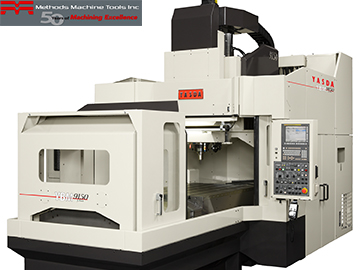 Despite its space-saving footprint, the YBM 9150 features a large work envelope with a 61″ x 37″ x 18″ (1500 x 900 x 540 mm) (X-Y- Z) axis travel that is ideal for applications such as mold bases and more. With a symmetrical bridge structure, 3-point machine base and an exceptionally rigid design, the YBM 9150 can machine a wide range of demanding materials. The machine also features through-hardened (HR60) box guide ways, contributing to machine rigidity.
In addition to the highly rigid design, the YBM 9150 has innovative capabilities that enable the extraordinary accuracies that YASDA machines are known for, including a unique thermal distortion stabilization system that isolates the spindle head, saddle unit and top of the bridge from thermal expansion during machining.
In addition, a Direct-Drive self-adjusting spindle preload and optical scale feedback on X-Y- Z Axes, provide precision positioning, and curvic coupling for pallet clamping also enhances precision machining. For maximum accuracy, the minimum positioning input/ output increment is 0.0001 mm.
The YASDA YBM 9150 comes standard with two pallets, a 100-24,000 rpm Big Plus 40 taper spindle, a 30 capacity tool magazine, twin spiral chip augers, a user friendly FANUC 31-B5 10.4″ color LCD control and 200 registerable programs.
Machine options include a choice of probing systems, high torque or high speed spindles, automatic pallet changers and up to five preload stations.
In 2013, Methods announced their new partnership with YASDA, the premier Japanese builder of machining centers and jig borers with a reputation of preeminence in accuracy, precision and quality.
In order to ensure the utmost in quality and precision, YASDA Precision uses only YASDA machines to build their own machine tools. With meticulously hand-scraped surfaces and superior machine construction, YASDA's extremely high precision stands alone. Methods represents YASDA across the U.S. and provides local application, sales & support expertise to YASDA customers.
About Methods Machine Tools
Methods Machine Tools, Inc., in operation for over 55 years, is a leading supplier of precision machine tools, 3D printing solutions, automation and accessories, providing extensive applications engineering support, installation, parts, service and training through a network of large state-of- the-art technology centers and dealers throughout North America.
For more information, visit their website at www.methodsmachine.com.