The Hildesheim-based company KSM Castings Group – a renowned manufacturer of cast components – is solving its cleaning requirements within the scope of a new order to produce throttle valves using a new Twister rotary indexing system.
As a specialist supplier in the automotive industry, the KSM Castings Group manufactures components and systems made from aluminum and magnesium using modern casting and manufacturing processes. Within the scope of an order to manufacture throttle valves for a car manufacturer, the company now needs a new cleaning system for their site in Hradek nad Nisou in the Czech Republic to clean cutting oils and swarf from aluminum components. The fully automated production process has been designed so that the new cleaning system is used within a robot-supplied production island between mechanical machining and leak testing. The cleaning system – including the planned drying phase – requires very little space. Short cycle times and the highest cleanliness requirements mean that utmost precision and reliability are required in the process workflow.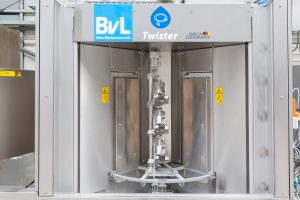 When it comes to cleaning systems, KSM has worked for many years with the Emsland-based manufacturer BvL Oberflächentechnik GmbH. As with previous projects, in-depth preliminary talks were held again. It was determined that a BvL Twister rotary indexing system is most suitable for the application specified since the system requires little space yet offers maximum efficiency and speed.
The robots on the production island position the components accurately and securely on the specially manufactured workpiece holders. These have been designed so that three throttle valves can be treated simultaneously in a chamber. Once the first workpiece holder has been fully loaded, the stainless-steel doors between the treatment chambers open and the Twister system platform rotates 90°. In the first chamber, components are cleaned using a powered rotary nozzle system with flat spray nozzles that has been adapted to the component geometry. A powerful circulation pump ensures the spraying device is supplied, resulting in correspondingly intensive cleaning.
After automatic pre-cycling, the components are rinsed in the next treatment zone using a separate spraying system from the rinsing tank. Similarly to the washing zone, the nozzle system rotates around the components inserted at an angle.
In the next zone, components are dried using a rotating nozzle system similar to the ones in the wet treatment zones, and which is fed by a powerful side channel compressor. Even tappet bores are reliably dried in this way. After being automatically rotated by a further 90°, the components are removed by the robot and forwarded for subsequent leak testing. Thanks to simultaneous cleaning, rinsing, drying, loading and unloading, production downtimes are significantly shortened and the necessarily short cycle time can be maintained.
Participation at the EMO trade fair
From 16th-21st September 2019, BvL Oberflächentechnik GmbH will be at the EMO trade fair in Hanover (Hall 11, Stand F35) to present different options for achieving technical cleanliness in short cycle times.
About BvL Oberflächentechnik GmbH
BvL Oberflächentechnik GmbH is one of the largest suppliers for water-based industrial cleaning systems in Germany. As a system partner, BvL offers comprehensive customer solutions through integrated services – from compact washing units and filtration and automated solutions to complex large projects with process monitoring, always complemented by reliable service. BvL currently employs around 160 people. With regard to exports, the company has expanded its position on an international scale and can rely on an extensive sales and service network in 19 countries. In the US, BvL is represented by the partner DeLong Equipment Company LLC in South Carolina and Georgia as well as GMTA – German Machine Tools of America in Michigan.