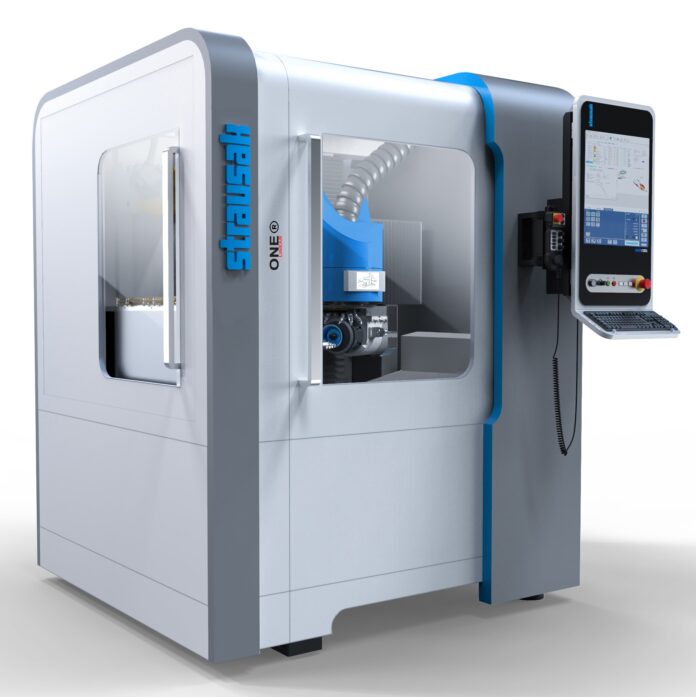 Strausak is exhibiting at the IMTS 2022 (International Manufacturing Technology Show) in September 2022 in Chicago, IL.
Strausak extends its global position in the field of multi‐axis CNC grinding by spotlighting the new model ONE 5‐axis flexible tool & cutter grinding machine with Numroto tool design software for the grinding of rotary and stationary cutting tools in small and large batch production, for custom cutting tools as well as for resharpening.
Factors to consider include:
Scalable: This model has been designed so that any options can be upgraded and retrofitted at any time during the life of
the machine.
Wheel changer: A 4‐station wheel changer is integrated into the machine as standard. This wheel changer can be upgraded at any time to an 8‐position or 12‐position system. It is easily accessible from the outside of the machine.
Staubli Robot: This optional robot can be pre‐installed or retrofitted to the machine for parts handling, just like any other option. It is a 6‐axis high‐speed industrial robot that will allow extended unattended production as well as loading extra‐long blanks, or parts that are inherently difficult to load and unload. Rollomatic cassettes can be used in conjunction with this robot.
Pick‐and‐place loader: As a cost‐conscious solution, this machine can be equipped with a pick‐and‐place loader which accepts the same cassettes as the range of Rollomatic machines.
Thermal stability and Cpk process capability index: The thermal stability is exceptionally high due to an innovative machine design and a rigid 5‐axis configuration. Field tests have demonstrated an unusually high Cpk process capability. This is of particular importance when grinding short‐run custom tooling where accuracy and "first‐tool‐good" are critical.
Linear motors: Linear motion technology is included in this machine which ensures outstanding surface finishes both on
radius and other primary reliefs as well as flute finish. Linear motors also reduce the footprint of the machine.
Synchronous grinding spindle: The highly efficient synchronous spindle, running at max. 40% power draw or less, does not release any heat into the machine or into the grinding process. This greatly helps with a consistent grinding process and
keeping the thermal stability.
High‐frequency spindle and wheel changer: As an option, this machine can be retrofitted with a high‐speed grinding spindle together with a 3‐position wheel changer. This option is ideal for pocket grinding for brazed carbide, PCD or any other ultra‐hard materials. Other applications could be short flutes, ID grinding or any other feature with tight radiuses.
Numroto software: This software platform offers the user high‐performance tool design and intuitive programming for an unlimited range of applications, both for production, custom tooling and for resharpening.
Footprint: This machine presents the smallest possible footprint among any tool grinder with a 32 mm (1.1/4") capacity, without any compromise in rigidity, sturdiness and power for production grinding.
About the Strausak Inc.
Strausak Inc., located in Mundelein, Illinois, is a subsidiary of Strausak AG established in 1923 in Switzerland, a member of the Rollomatic Group of companies. The US Headquarter of the Rollomatic Group was launched in 1994 to provide local customer service and support throughout the U.S., Mexico and Canada.
This location features a 29,000 sq. ft. building with a showroom and training area as well as warehouse and engineering offices. Our showroom provides an ideal atmosphere for machine demos, software training and test grinding, while offering an opportunity to explore the latest Rollomatic offerings.
Rollomatic and Strausak are looking to the future with its partnerssuch as the EPFL (Swiss Technical University in research, teaching and innovation) so it can be right at the center of the innovations and in‐depth discussions shaping the Fourth Industrial Revolution. True to its Swiss origins, the company operates at the highest level of precision and offers 100%
Swiss‐designed products and services. Rollomatic is in constant pursuit of excellence in quality and accuracy.