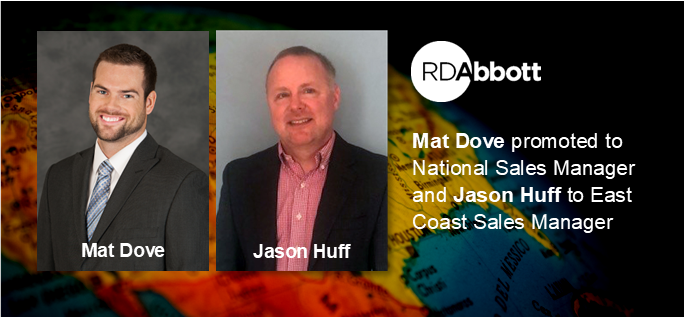 R.D. Abbott Co., Inc. (RDAbbott) has named Mat Dove as National Sales Manager and Jason Huff as East Coast Sales Manager. Both promotions will become effective on January 1, 2023. Dove, the current East Coast Sales Manager, will assume a newly created position that is responsible for managing all sales efforts nationwide. Huff, a current Senior Account Manager for the U.S. Midwest, will assume Dove's previous position and manage East Coast sales.
"RDAbbott is excited to ring in the New Year," said Jerry McCall, the company's Vice President of Sales and Marketing. "In the midst of historic supply chain challenges, Mat Dove attentively supported our East Coast customers, and we look forward to seeing him excel in his new and larger role. Jason Huff is also an extraordinary builder of trusted relationships, and we're confident that our East Coast customers will enjoy the exceptional level of service they'll receive from him."
Dove joined RDAbbott as an Account Manager in 2017 and was promoted to East Coast Sales Manager three years later. He is a 2011 graduate of Indiana University, where he earned a Bachelor of Science degree with a major in Business Management. Huff joined RDAbbott as a Senior Account Manager for the Midwestern United States in 2021. He is a rubber and plastics industry professional with 20+ years of experience and an in-depth knowledge of elastomers.
As Account Managers for RDAbbott, Dove and Huff developed industry relationships, provided technical support, and delivered the best overall solutions to customers. They also worked closely with RDAbbott's Product Management and Customer Service teams while serving as liaisons to the company's suppliers. In their new roles, the former Account Managers will apply their experience on behalf of more customers and help strengthen and nurture the Account Management team.
About RDAbbott
RDAbbott is a materials science, engineering, and distribution company that's been serving the rubber industry since 1948. They are staffed with rubber experts at every level; equipped with state-of-the-art, US-based laboratory and manufacturing facilities, and stocked with premium elastomer products in warehouses throughout North America. RDAbbott was recently named one of the "Best Places to Work" by Rubber News.