Greenerd Partners with Fanuc America as
Tier 1 Authorized Robot System Integrator
Greenerd Hydraulic Presses Now Available With Integrated, Automated Product Handling.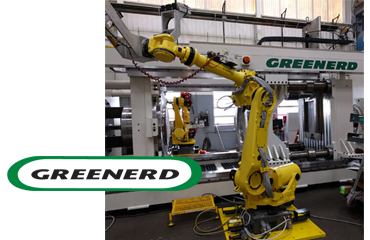 Greenerd Press & Machine Company, Inc. has announced it is now a Tier 1 Industrial Authorized Robot System Integrator of FANUC America Corporation, the industry's leader in automated manufacturing equipment. The new partnership gives Greenerd full access to the comprehensive offerings of FANUC Robots including all models, training and support, providing state-of-the-art automation solutions in short time frames. (http://www.greenerd.com/)
Greenerd has a long tradition of designing, engineering and manufacturing customized hydraulic presses with product handling solutions. The FANUC Robots partnership gives Greenerd the ability to offer its customers the best possible automated product handling solutions, including cells with a single robot as well as complex work cells with multiple robots.
"For even greater manufacturing efficiency, including for the most demanding production environments, we are thrilled to be able to provide our hydraulic press customers with turnkey, state-of-the-art robotic product handling solutions, said Mr. Jerry Letendre, CEO of Greenerd Press & Machine Company .  "Our new partnership with FANUC combines the highest quality hydraulic press technology with the world's best robots."  Greenerd customers now have access to tremendous assistance and expertise from both Greenerd and FANUC for training, system support and parts.
Greenerd's extensive hydraulic press capabilities include standard models along with custom designed presses to meet challenging application needs. Hydraulic presses are available in a variety of styles ranging from gap frame and straight-side to die-spotting and forging presses, with product capabilities from 3 tons up to 40,000 tons and bed sizes exceeding 240" (6,100mm).  Press solutions are offered for fabricating in key market segments such as automotive, aerospace, appliance and HVAC. 
Greenerd has decades of in-house applications engineering experience, successfully designing presses for a broad range of manufacturing applications. Utilizing the latest engineering technologies, Greenerd engineers design and build innovative, safe, efficient, reliable hydraulic press solutions with the latest controls and automation features.
About Greenerd
Founded in New England in 1883, Greenerd has designed and built thousands of high-quality custom and standard hydraulic presses since 1934. Machines include an extensive line of Hydraulic Presses in all sizes and configurations. A complete line of Arbor Presses is also available. Greenerd Presses are made to withstand the rigors of around-the-clock production and deliver many years of service.
Greenerd Presses are available as standard machines or can be designed for custom applications by expert engineers with extensive application experience. For more information, contact Mr. Tom Lavoie at Greenerd. Phone number 800-877-9110, x 251, e-mail tlavoie@greenerd.com or visit www.greenerd.com.