Strohwig Industries is a large, family-owned tool and die, injection mold and custom machining shop that helps turn the ideas of engineers into reality. The company was founded in 1978 by Mr. Wolfgang Strohwig and his brother-in-law Larry Glass in Polk, Wisconsin. The initial location had only 600 square feet of space and a single Lucas Boring Bar. Located today in Richfield, Wisconsin, Strohwig Industries has 180 employees with a 225,000 square foot facility. With 56 horizontal and vertical CNC machines and the ability to handle over 100 tons, Strohwig is well equipped to handle large machining.
Brad Bucholtz, the company Quality Technician, explained Strohwig's mission as, "The design, manufacture and repair of medium to large forging dies, plastic injection molds and metal die casts, as well as the manufacture of custom contract parts and/or components." They machine a variety of steel (H-13, stainless steel, castings, forgings) and aluminum components. The company serves various markets including aerospace, automotive, mining, defense, building assembly, oil and gas, energy, marine, etc. This is why they decided to use Exact Metrology: A Division of In-Place Machining Company equipment for their inspection needs.
Brad said they've worked with Exact Metrology for over ten years. Initially, the company provided metrology services. He added that before 2010, there was no need for metrology as company employees manually inspected jobs that needed it. Working with Exact Metrology, Strohwig bought a Hexagon Romer Arm in 2016 and Leica Tracker in 2019. When the Romer RS6 scanner was released Exact Metrology offered a trade in on the older Romer arm. The productivity increase was so great it was easy to justify the investment of the new arm/scanner. This equipment came in handy when Strohwig received a request from a major Midwestern forge that has a long-standing relationship with them.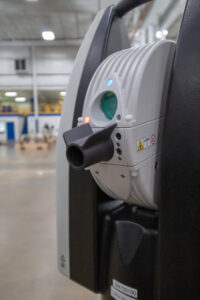 This metal forging company in Illinois has a 126-year history and specializes in open die forging and rolled ring forging. The company was using Coordinate Measuring Machines (CMM) but needed to upgrade their equipment. A new job required precise measurability of a large forged part with complex geometry. Dean Solberg, Exact Metrology co-president suggested that they invest in scanning technology. Thus, the company purchased a Leica tracker, as well as PolyWorks software. Leica Absolute Tracker AT960 features an all-in-one integrated design, single-box probing system and smart connectivity. Additional features include continuous measurement, entry-level probing with T-probe and 2 Handheld laser scanners. One is an 8" line scan and another is a 24" line scan to capture huge amounts of data quickly.  The System is IP54 Certified for protection against dust and other contaminants. PolyWorks|Inspector™ was used to verify the quality of the part through the use of high-density point clouds and contact-probe datasets. The scan was performed in a working environment, not a traditional lab, which meant that personnel were doing this while forging occurred. In the past, Strohwig machined various parts for them. Now, this forge had Strohwig test for compliance vs. non-compliance in one of their forged parts.
To do this, Strohwig used the Hexagon Romer Arm and the Leica Absolute Tracker. The portable measuring arms allowed company personnel the flexibility to measure on the machine shop or the floor. It featured no honing procedures, simplicity of operation and reliable 3D measurements. The Absolute Arm 7-axis delivers tactile probing and laser scanning in a uniquely ergonomic package. Once this was completed, they used PolyWorks|Inspector™ to verify the quality of the part by using a color map. In the future, the company is looking to purchase additional Exact Metrology products.
Strohwig was able to coordinate with the company as they use common platforms to communicate and shared daily emails and PowerPoint presentations with their results. Brad Bucholtz used data mergers to combine the Romer and Leica data sets into one report.
Since using Exact Metrology, Brad said, "We are able to provide detailed reports to our customers. Also, we're able to perform in-process inspections to validate specific processes." He further commented that Exact Metrology allowed them to supply a superior product and their deliverable to the customer has greatly improved.
When referring to the benefits of working with Exact Metrology, Brad noted, "Training only goes so far. After initial training, there are many stumbles and Exact is always there to make sure we get the knowledge we need. Onsite or offsite, they go above and beyond the call to make sure we can provide our customers with the data they need."
Exact Metrology: A Division of In-Place Machining Company, is ISO9001, AS9100 Certified as well as ITAR Registered.
Exact Metrology: A Division of In-Place Machining Company, with facilities in Cincinnati, Ohio, Moline, Illinois and Milwaukee, Wisconsin, plus affiliated offices throughout the country, is a comprehensive metrology services provider, offering customers 3D and CT scanning, reverse engineering, quality inspection, product development and 2D drawings. The company also provides turnkey metrology solutions, including equipment sales and lease/rental arrangements.
In-Place Machining Company: On-Site Machining Solutions In-Place, Any Place in the World.
In-Place Machining Company, with facilities in Wisconsin, Washington, Virginia, Ohio, California, and Ontario, Canada, is the premier provider of high-precision engineered on-site machining, metrology, and large scale cutting & drilling services for a wide range of renewable energy, aerospace, industrial, and military customers throughout the world.