By: Nancy Lauseng
Waterjet or Plasma? Metals Expert Weighs In
JACQUET has built a thriving nationwide metal service center business by offering both waterjet and plasma cutting services. JACQUET Midwest CEO Dan Chatterton explains how the processes complement each other and provide value to his customers.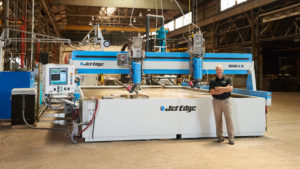 Steak and potatoes, beer and brats, waterjet and plasma…some things just belong together. Wait, waterjet and plasma? That's right; it turns out these competitive cutting systems make a great pair, one picking up the slack where the other falls short and vice versa. This formula has worked well for the thriving metal service center JACQUET, which has equipped each of its five U.S. facilities with both technologies. JACQUET has 13 13'X21' Jet Edge waterjet systems and six 14'X40' plasma cutting systems.
A subsidiary of Jacquet Metals of Lyon Saint Priest, France, JACQUET operates metal service centers in Racine, Wisconsin; Pottstown, Pennsylvania; Carson, California; Pineville, North Carolina; and Houston, Texas. JACQUET also owns the Rolark Group service centers in Canada, with subsidiaries in Edmonton, Toronto and Montreal.
JACQUET specializes in supplying and processing stainless steel and nickel alloys for OEMS, fabricators and machine shops that support primarily the oil and gas, power generation, pollution control systems and water purification industries. The company stocks 19 different grades of stainless steel and nickel alloy plates in a wide variety of sizes and thicknesses.
JACQUET Midwest CEO Dan Chatterton says waterjet and plasma both have their place, giving JACQUET a competitive edge over shops that offer one service over the other.
"Waterjet and plasma complement each other in that they offer our customers a choice in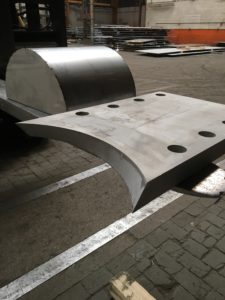 pricing, lead time and edge quality," Chatterton explains, noting that plasma cutting services are generally less expensive and that plasma cuts faster than waterjet, but that waterjet has much better edge quality with no Heat Affected Zone (HAZ) or slag, and a much tighter tolerance.
JACQUET typically sees a 50% tolerance improvement on waterjet cut parts versus plasma cut parts on material of similar thickness. Waterjet also has a far narrower kerf (0.035" for waterjet vs. 0.150" for plasma) that makes it better suited for cutting thick materials. Waterjet's other key advantage is that it can process nearly any material, while plasma is limited to conductive materials.
In terms of machine acquisition cost, precision CNC waterjets and precision CNC plasma systems can both easily be six figure investments for industrial-grade systems, but plasmas generally have a lower acquisition cost.
Waterjet or Plasma? It Comes Down to the Application
At JACQUET, which machine gets used depends solely on the application.
"Many JACQUET customers are machine shops and fabricators," Chatterton says. "Many of these companies will take the cut pieces from JACQUET and do post machining to it or welding or grinding. They do not need the tighter tolerance, high quality edge that the waterjet offers. If a customer will do additional machining or post processing to the part, we would recommend plasma cutting.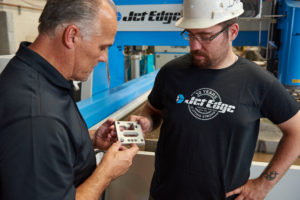 "But if a customer is looking for a near net finished part, we would recommend waterjet cutting. Also, when you begin to get to the thicker ranges of what Jacquet can offer in plate, the waterjet could offer a better advantage. In thicknesses of 3" to 6", the minimum kerf of the waterjet offers a better advantage."
Cutting at temperatures up to 40,000°F (22,200°C), plasma unavoidably creates HAZ and slag which needs to be ground away prior to machining, Chatterton notes.
"Slag is the molten metal splattering during the plasma cutting process and HAZ is the heat generated during cutting," he explains. "This heat is absorbed into the cutting edge of the material on the part side. Depending on the settings and material type and thickness, this heat can be absorbed to varying depths into the material on the part side.  HAZ hardens the material in that area and causes it to be more difficult to machine. Slag is undesirable because it causes extra labor to grind it off. Many times the customer will not accept the material with the slag left on it so JACQUET will almost always grind off the slag before shipping the part to the customer."
In cases where a customer cannot accept HAZ, Chatterton recommends waterjet cutting, which is a "cold" supersonic grinding process that produces no slag or HAZ, resulting in a fully prepped, finished part in one operation.  Waterjet also does not produce any micro-cracking, recast layer or any change whatsoever in the material's characteristics.
"You will always have some penetration of HAZ with plasma cutting so waterjet cutting is the only way to eliminate this," he says.
JACQUET ups its Game with 5-Axis Jet Edge Waterjet
Always eager to keep its competitive edge, JACQUET Midwest recently added a Jet Edge EDGE X-5® 5-axis waterjet cutting system with dual cutting heads to its arsenal of waterjets. JACQUET's dual 5-axis waterjet system is capable of cutting precise 3D parts from virtually any material, including bevels up to 50° in a multitude of configurations on virtually any geometry. Powered by a 60,000 psi 100 hp Jet Edge iP60-100 intensifier pump, the ball-screw driven waterjet system has a repeatability of +/- .001".
Like JACQUET Midwest's other two Jet Edge waterjet systems, the 5-axis has a large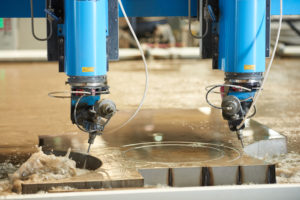 21'X13' work envelope, which enables the metal service center to process full 8'x20' or 10'x20' plates. All of the machines in the JACQUET system are large table machines because it buys large plates mill direct to be more efficient with cuts, have longer run cuts and have better nesting.
With its 12" Z axis travel, the EDGE X-5 can process thick materials in one setup, saving significant time and production cost. JACQUET Midwest added optional laser material mapping and contact surface sensing features to their system to accommodate uneven material and the relieving of the material during the cutting process. They also selected IGEMS CAD/CAM software which is designed specifically for waterjet cutting to make adding bevel features quick and simple.
In addition to beveling, the EDGE X-5 5-axis waterjet system can produce virtually taper free cuts utilizing the IGEMS Taper Angle Control (TAC) function, explains David Arthur, Jet Edge southeast regional manager.
"IGEMS CAD/CAM software has an extensive tech table, which allows the EDGE X-5 to compensate for the inherent taper created by the water jet cutting process," Arthur notes. "The operator can choose any edge quality and create taper free parts.  The tech table is user definable giving the operator or programmer the ability to change the characteristics of the TAC data for any material and to create and edit new materials."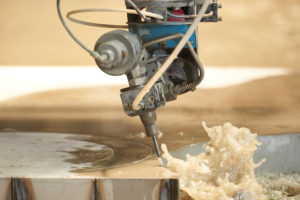 JACQUET Midwest's Jet Edge 5-axis waterjet system has enabled the shop to take in new types of work and to offer beveling and contour bevel cutting services to JACQUET customers nationwide.
"We can provide a tighter tolerance part from the top edge to the bottom edge of the part, eliminating a lot of the machining," Chatterton says. "This allows us to do much more for our customers; we can bevel cut, taper control, and chamfer holes on both the top and bottom edges of the material.
"As we speak with our customers and have introduced them to bevel and contour waterjet cutting, we also ask them as many questions about the process as possible. This helps us learn how we might be better able to help them in this area. We many times find out that there are additional steps we could do for them to save even more time in their shop. Many times customers think of the 5 axis cutting as mostly straight linear paths, when the 5 axis can do so much more, including straight line bevel cutting, contour cutting, flight paths, on both top and bottom surfaces, all from the top side of the material."
Weld Preparation Made Easy with 5-Axis Waterjet
5-axis waterjet cutting is especially advantageous for cutting angles for weld preparation, Chatterton notes.
"When waterjet cutting beveled edges or angles of any degree, the 5 axis waterjet cutting heads become a real advantage," he says. "Many fab shops do angle grinding within their shop but most do not like do it. Grinding stainless is loud and dirty. Shops also need the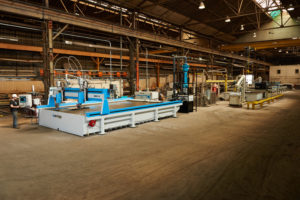 correct ventilation in the grinding area to be safe and compliant with EPA standards, so it can be a shop nightmare. With the waterjet 5 axis cutting, this is all achieved within one cutting process, programmed together with the basic part. This is more accurate and offers a cleaner, more consistent cut than grinding or a burn bud, for example."
Bevel cutting has been a tremendous value added service for many of JACQUET's customers, Chatterton says.
"It has reduced lead time to the customers, because one purchase order can be issued to JACQUET and we deliver the finished part. The customer does not have to deal with multiple P.O.s and the subsequent follow up with two vendors. "
In the decades old contest between waterjet and plasma, JACQUET has proven that it pays to have both. If HAZ and slag are not a concern, plasma is the more economical choice. If edge quality and precision and repeatability are critical and you need to cut a wide range of materials, waterjet is the hands-down favorite.
For more information about Jacquet, visit www.myjacquet.com or call 484-945-1075 (Jacquet Mid Atlantic), 262-898-1381 (Jacquet Midwest), 949-221-9551 (Jacquet West), 281-397-9920 (Jacquet Houston), or (704) 588-3778 (Jacquet Southeast)
For more information about Jet Edge, visit www.jetedge.com, call 1-800-JET-EDGE (538-3343) or e-mail sales@jetedge.com